Hey there! It's been a minute since we've taken you backstage with us, so here's the down 'n dirty on what we've been up to at Gallagher Staging and Manufacturing through the hottest heat of COVID-19.
Like everyone else in the world, CEO Joey Gallagher and the rest of our team have had to adopt a new attitude and restructure our priorities. This attitude of flexibility and mindset of civil outreach have gotten us through the season of the pivot, coming out strong on the other side. Wavemakers Media Group's winter edition of West Oceanfront Magazine featured the obstacles Gallagher faced as an entrepreneur and as a business owner through the 2020 pandemic. He told West Oceanfront, "[Last] year caused a complete shutdown of my business, which had expanded from those initial 50 employees to more than 160 employees. In 2019, we were building the main stage at Coachella and Stagecoach, and constructing multiple custom sets for some of the most famous entertainers in the world. Then the music stopped." Instead of sitting stagnant with the majority of the industry, Gallagher Staging created new businesses and initiated projects to remain a relevant resource to fluidly adapt to the community's needs.
One of Gallagher's first pivots was creating disaster relief shelters at-cost for healthcare professionals and government officials who have been working tirelessly toward coronavirus recovery. The Gallagher Staging team offers a unique talent and specialized capabilities allowing us to put our skills to work toward temporary hospitals, facilities, triage tents, testing centers and more. In a company announcement Gallagher said, "Safety has always been at the heart of what we do. This is not about the state of the staging business; this is about how the staging business can help the state. It's our responsibility to step up and deploy resources to assist those in need." How exactly did we make this pivot? Commercial Integrator Staff reported, "Gallagher Staging can deliver structures across the U.S. and can customize them to fit any emergency situation, says Gallagher. The company can supply elevated stage platforms, barricades to create pathways, decking for level ground, temporary wall structures, medical-grade flooring, ADA-compliant ramps, rain and shade structures and more. In addition to providing at-cost staging solutions to respond to COVID-19 situations, the Gallagher Structures team has set up a digital crisis center on its website that is updated daily with new services, systems and products."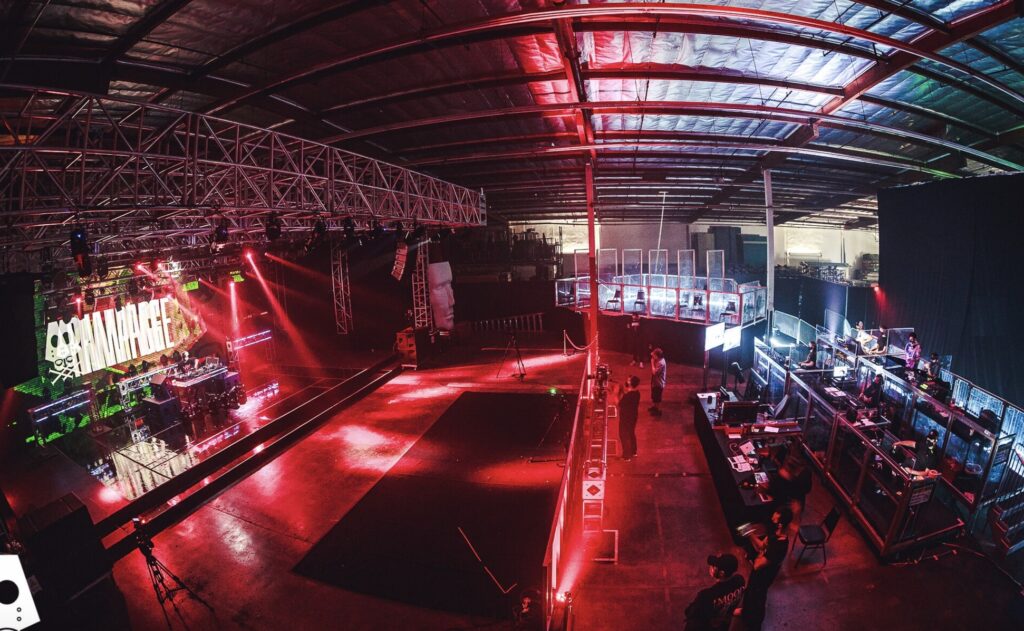 Social Sanctuary is another Gallagher Staging initiative brought about by Covid-19's impact on the entertainment industry. And our Social Sanctuary is just that – a sanctuary. Our site information describes this venue as, "Defined by passion and progress, Social Sanctuary allows artists to showcase their talents in a positive, high-energy, immersive environment where risks are mitigated and creativity can be set free." We utilized the highest possible safety standards to keep our artists safe, our staff working, our students learning and our output at the maximum quality level. In addition to providing safe and healthy spaces for the atmospheric performances we love supporting, Social Sanctuary included live streaming support through a primary Twitch account and any other platforms of the artist's choice. We hosted a wide variety of creatives, artists, performances, DJs and more 24 hours a day, 7 days a week, and are having a total blast providing such a great experience that transcends the debilitation of the pandemic.
Now, we're back and better than ever! We have the crew, the gear and the passion to put you back on stage and give you the live show you've been yearning for. Stay in touch and follow us on Instagram and LinkedIn to see our new, live projects with that old event feel. Give us a call when you're ready to stage with confidence.